Garage Door in Minneapolis
We have been serving the Minneapolis area with high-quality garage door products for many years. Our technicians have experience in working with a multitude of garage door styles, sizes, and setups. They are well-familiar with the latest technologies. We have partnered with the world's leading garage door manufacturers to supply our customers with products that they can enjoy for years to come. We service and install a wide variety of brands of quality garage doors, including Wayne Dalton garage doors, North Central garage doors, C.H.I. Overhead Doors, Clopay Door, etc.
Find Reviews Of Garage Door Repair
Minneapolis Garage Door Repair
At Johnsons Garage Door, we offer a full range of garage door repair in Minneapolis, MN. Whether you need to fix problems with garage door sensors, springs, or alignment, we have got you covered. Our range of services include garage door opener repair, garage door panels and sections replacement, garage door roller and hinge replacement, garage door tracks repair and alignment, garage door weather stripping replacement, garage door cable repair and replacement, electronic garage door sensor repair, and garage door maintenance.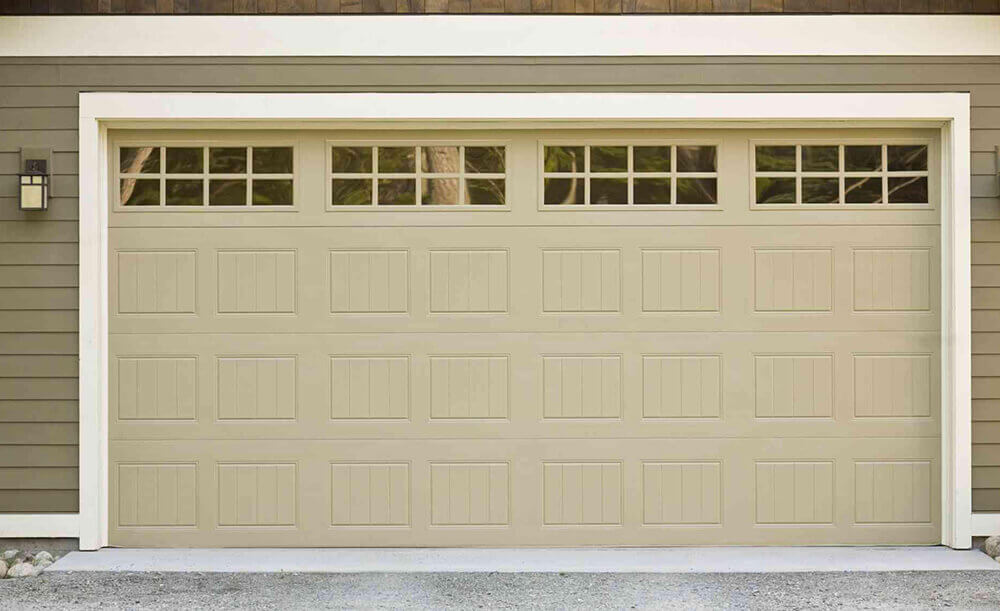 Garage Door Opener Repair: A garage door opener is a device that is used to open and close garage doors. Your garage door opener can stop functioning for various reasons. We can troubleshoot all problems with your garage door opener. Our technicians can install and service all types of garage door openers, be it a chain-drive opener, belt-drive opener, or a direct-drive opener. We offer same-day garage door opener repair and replacement in Minneapolis, Minnesota.
Garage Door Panels and Sections Replacement: If you have damaged or dented garage door panels, call us immediately. We will replace them with high-quality panels and sections quickly and efficiently.
Garage Door Roller and Hinge Replacement: Are your garage door hinges squeaky or rusting? Then it's probably time to replace them. At Johnsons Garage Door, we have dedicated professionals who can quickly replace your garage door roller and hinges in Minneapolis. They will ensure that the hinges on your garage door are properly lubricated.
Garage Door Track Repair and Replacement: The most common reasons for a garage door track replacement include defaced rollers, broken cables, roller displacement, etc. You can trust us to fix your garage door tracks in no time. Before leaving your property, our experts will ensure that the tracks are aligned and functioning properly.
Garage Door Cable Repair and Replacement: If you need to replace your broken garage door cable, please don't hesitate to contact us. Our professionals have the knowledge and expertise to handle garage door cable repairs and replacements.
Electronic Garage Door Sensor Repair: There are several things that can cause a garage door sensor to malfunction. These include dirty sensors, damaged components, etc. Our garage door technicians can deal with all types of garage door sensors – safety sensors, monitor sensors, etc. We can install new garage door sensors easily and conveniently.
We have been repairing and replacing garage door parts in Minneapolis for a long time. Our technicians are qualified to repair all types of garage doors. They have many years of experience in the field. Also, our professionals come fully equipped with the latest tools and equipment, which allows them to perform the repair work in a safe, efficient, and reliable manner.
We always respond urgently to calls for emergency garage door repair in Anoka County, MN. Our experts will arrive at your door on time and provide you with a fast, affordable solution. They won't leave your property until your garage door is in working order. So, when you need a quick "garage door repair near me" in Minneapolis, we are just a phone call away.
Garage Door Repair Near Me
Searching for a "garage door repair near me"? Johnsons Garage Door is your local garage door specialist in Minneapolis, MN. We have been installing and servicing overhead doors across Minneapolis for quite a while. We are proud to offer fast garage door repair and replacement at the most competitive price rates available.
Over the years, we have earned a reputation for exceptional quality products and superior customer service that exceeds that meet the expectations of our clients. We have hundreds of happy and satisfied customers in the Minneapolis area. Please feel free to contact us to discuss your requirements with our experts.
Garage Door Service in Minneapolis
There are a number of things that can go wrong with a residential or commercial garage door. These include broken overhead garage door springs, broken or bent rollers, faulty garage opener, etc. These things can cause your garage door to stick or stop working altogether. Our garage door professionals will thoroughly inspect the door system to determine what the problem is. They will discuss all the details with you and provide you with a quote. You can rest assured that our repair service will get you back up and running quickly.
At Johnsons Garage Door, we offer garage door repair and replacement options for every need and budget. Please feel free to contact us directly to discuss your requirements with our garage door repair experts in Minneapolis.
Minneapolis Garage Door Installation
If you are searching for garage door experts for "garage door installation near me" in Minneapolis, then you can turn to Johnsons Garage Door. We have been providing professional garage door installation services for houses and commercial door repair in Minneapolis for a long time. We supply and install high-quality garage doors from the world's leading brands and manufacturers.
We strive to make installing a new garage door as smooth and hassle-free as possible for our clients. You can call us directly to schedule a site visit. Our technicians will come to you to take all the necessary measurements. They will help you choose the right garage door for your property.
Our garage door installers in Minneapolis will arrive on time with all the tools, equipment, and products that they need to install the garage door in a safe and efficient manner. You can rest easy knowing that our highly trained and experienced installers will install all the components correctly. They will ensure that your new garage door is functioning properly. Call us now to get a free estimate for garage door installation in Minneapolis.
Garage Door Spring Replacement in Minneapolis
Garage door springs are a crucial component of your garage door. They are responsible for counteracting the force of gravity on the garage door. These springs can break for a number of reasons, including simple wear and tear, poor maintenance, rust buildup, etc.
However, the replacement of a garage door spring system should never be done by a person who is not qualified. There are many dangers associated with DIY garage door spring replacement. First of all, failing to handle the springs properly can cause damage to your property. It can also cause injury to any person present in the garage. So, the best thing you can do is to hire professional garage door technicians for the job.
We have a team of garage door experts who have the right training and tools. They regularly perform garage door spring replacements. So, they know what it takes to fix broken springs safely. Please get in touch with us today to find more information about our garage door spring replacement services in Minneapolis, Minnesota.
Garage Door Companies in Minneapolis, MN
Has your garage door in Minneapolis stopped working? Are you looking for garage door repair/replacement experts in the area? Then you have come to the right place. You can count on our expert team to fix your garage door quickly and efficiently. Johnsons Garage Door is a family-owned garage door repair company for all your garage door repair and replacement needs in Minneapolis, MN. Whether your overhead door needs to be repaired or you are looking to install a new garage door, our highly trained and experienced garage door technicians can get the job done right the first time.
As a leading garage door company in Minneapolis, we understand that a broken garage door can affect your schedule and put your entire day on hold. That's why we offer emergency same-day garage door repair services for commercial and residential customers in Minneapolis. Just give us a call, and we will send an expert garage door repairman to repair your garage door on the same day.
CALL US TO FIX NOW
We Serve Anywhere in Minneapolis, MN
Frequently Asked Questions About Garage Door Repair and Replacement
CALL US TO FIX NOW
OUR CLIENTS REVIEWS
Throughout the years we have become a reputed garage door service provider in Minnesota by giving value to our client's needs. Please check what our clients have to say about our services. The same reviews you can find in our Google Business as they are real.
– Jodi O.
Johnsons garage door provided top quality service for my garage door. The technician told me exactly what needed to be done and had my door fixed and operable in no time at all. I would highly recommend this company.
– Sahar Hilel
Call them, came on the same day to repair my garage door. Tech was polite and professional, price was good as well would highly recommend
– Michele Kraus
Lee did a great job fixing my garage door and explaining what should be fixed and why. He gave me options, pricing for each option and was wonderful to work with. I highly recommend this company and will call them again when needed.
– David Smith
I have bought a beautiful house in Burnsville with an attached garage. But, prior to getting it used I get the door installed by the skilled guys of Johnsons Garage Door Repair. I would personally recommend their services to others as well.
– Jonathan Leibovich
Excellent service, helped with spring repair. Would recommend others to use Johnson's mobile garage door repair. Thank you Ron
– James Andrews
These guys have an amazing sense of impressing their clients with the quality of services. Every time, I face a garage problem they have always presented the solution. I would suggest the name of Johnsons Mobile Garage Door Repair to anyone asking for garage door service in Burnsville.
– Dylan Gowing
Replacing the garage door opener was really a next level step for me as I don't know about them much. But, thanks Johnsons Mobile Garage Door Repair for helping me out of such situation in Burnsville. The garage door opener they had provided is working without any problem for the last one and a half year.
– Teresa Newman
Garage door broke and needed a repair on a Saturday evening with temps in negative. Adam came out within 2 hours of my call. Very pleasant and did an excellent job fixing my garage door and charge was very reasonable and also gave me tips on how to maintain my garage door.
– Donald Levins
I was locked out in my garage due to the door jammed so tightly. I got the number of Johnsons Mobile Garage Door Repair and I called them at midnight. They arrived at my house at immediate after my call. It took a minimal time to get the problem sorted.
Call Now Button